2024-2025-2026 Calendar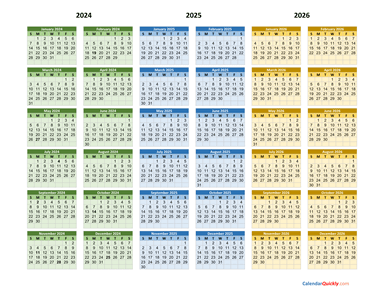 2024-2025-2026 3-year calendars designed on one page. You can have a comprehensive view of the date and month of the three years from 2024 to 2026. Three years are designed contiguous, each year consists of 2 columns and 6 rows.
• Week starts on: Sunday
• Paper size: US Letter
• Dimensions: 8.5 by 11 inches
• Orientation: Horizontal, Landscape
» Previous year: 2023-2024-2025 Calendar
• By downloading this calendar template you agree to our Terms of Use.
Print 2024-2025-2026 Calendar PDF
Year 2024 Calendar on One Page
Choose from a selection of other 2024 calendar templates below to meet your different needs.