2022 Calendar Vertical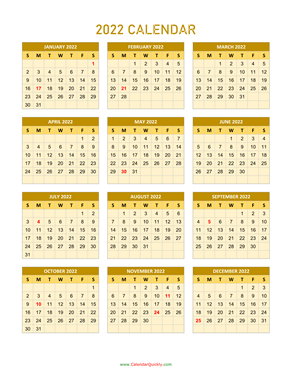 2022 calendar is designed on 1 page of vertical paper, the calendar is arranged in 3 columns of 4 rows, each row includes a period of 3 months or a quarter. This design is convenient for planning and scheduling a given quarter. This calendar template comes in handy for people working in finance and businesses.
• Week starts on: Sunday
• Paper size: US Letter
• Dimensions: 8.5 by 11 inches
• Orientation: Vertical, Portrait
» Next year: 2023 Calendar Vertical
» Previous year: 2021 Calendar Vertical
• By downloading this calendar template you agree to our Terms of Use.
Print 2022 Calendar Vertical PDF
Year 2022 Calendar on One Page
Choose from a selection of other 2022 calendar templates below to meet your different needs.
How to print 2022 Calendar Vertical PDF
The "2022 Calendar Vertical" we provide you are saved in Adobe PDF format (.pdf extension file) and can be opened with most popular PDF readers like Adobe Acrobat Reader, PDF-XChange Viewer and Foxit Reader. This calendar file can be scaled down and enlarged so they can be printed on sizes smaller or larger than standard letter paper (eg A3, A4, A5, Legal, 11x17, Poster ...).
Download the calendar file by clicking the "Download 2022 Calendar Vertical PDF" button, save the PDF file on your computer. When the download is complete, open the PDF file with your PDF reader, and you can easily find the "Print" option listed in the "File" menu of the PDF reader.
More specifically, you can refer to instructions on how to print PDF files on Windows and on Mac.
The files may be used free of charge for non-commercial purposes, provided that the CalendarQuickly logo, the copyright notice ("www.CalendarQuickly.com") is not deleted. Not for commercial distribution or resale. For commercial use, please contact us. All content of this site is copyright © 2021 CalendarQuickly®. All Rights Reserved. Data is provided 'as is' without warranty and is subject to error and change without notice.