2022 Calendar Vertical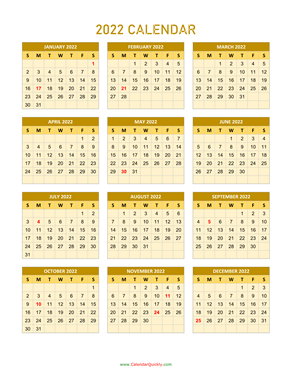 2022 calendar is designed on 1 page of vertical paper, the calendar is arranged in 3 columns of 4 rows, each row includes a period of 3 months or a quarter. This design is convenient for planning and scheduling a given quarter. This calendar template comes in handy for people working in finance and businesses.
• Week starts on: Sunday
• Paper size: US Letter
• Dimensions: 8.5 by 11 inches
• Orientation: Vertical, Portrait
» Next year: 2023 Calendar Vertical
» Previous year: 2021 Calendar Vertical
• By downloading this calendar template you agree to our Terms of Use.
Print 2022 Calendar Vertical PDF
Year 2022 Calendar on One Page
Choose from a selection of other 2022 calendar templates below to meet your different needs.