Yearly Calendar 2022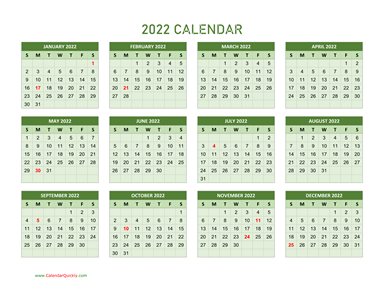 Yearly calendar 2022 on a single page. With a simple and classic design, this calendar template makes it easy to mark, note and observe important dates. This calendar template is provided in PDF file format and you can download it for free.
• Week starts on: Sunday
• Paper size: US Letter
• Dimensions: 8.5 by 11 inches
• Orientation: Horizontal, Landscape
» Next year: Yearly Calendar 2023
» Previous year: Yearly Calendar 2021
• By downloading this calendar template you agree to our Terms of Use.
Print Yearly Calendar 2022 PDF
Year 2022 Calendar on One Page
Choose from a selection of other 2022 calendar templates below to meet your different needs.