2024 Calendar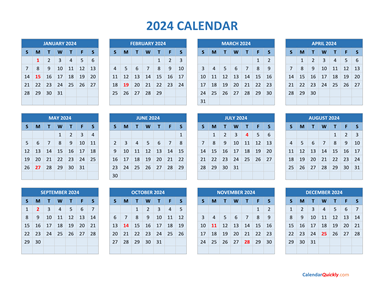 This 2024 calendar template gives you an overview and helps you keep track of the days, weeks and months of the year. The 12 months of year 2024 calendar on a single page, you can easily download it in PDF format.
• Week starts on: Sunday
• Paper size: US Letter
• Dimensions: 8.5 by 11 inches
• Orientation: Horizontal, Landscape
» Previous year: 2023 Calendar
• By downloading this calendar template you agree to our Terms of Use.
Print 2024 Calendar PDF
Year 2024 Calendar on One Page
Choose from a selection of other 2024 calendar templates below to meet your different needs.